Staff
Lana Winders - Chief Executive Officer
Netball has always featured strongly in the life of our chief executive Lana Winders.

"The game of netball makes me happy. I was always that girl on the court just grinning away and loving every moment," she says.

When the opportunity arose to merge her passion and her career by leading the Netball South team, Lana eagerly embraced the role.

After a distinguished career with SBS Bank, combining her business acumen with a 30 year involvement in our sport has proved a winning combination.

General Manager of Corporate Performance at SBS for eight years, Winders previously held senior executive roles in market development and human resource during an 18-year career with the iconic bank.

In the sports arena, she is a former Southland representative with a vast involvement at the grassroots level of the game as both a player and coach.

She is focused on Netball South continuing to be an organisation that is respected in the community and has "the mana as a real southern identity".

Naturally quite competitive, Lana is ultimately striving to ensure Netball South is the top performing zone in the country and Steel secure the coveted ANZ Championship silverware.
Sonya Fleming - Events Manager
Whether it's delivering an elite ANZ Championship clash to live television audiences or the glamour of a Netball South awards function, Sonya thrives under pressure.
Epitomising the hard-working traits of a true Southlander, Sonya is an events guru who loves seeing a project executed to the highest standard.
After completing a Certificate in Hospitality, Tourism and Hotel Management at the Southern Institute of Technology in 1994, Sonya embarked on a career in office management before commencing employment for over a decade with the Invercargill Licensing Trust.
Her roles at the Ascot Park Hotel – naming rights sponsor of our Southern Steel franchise – included Reservations Manager, PA to the Executive Manager and Functions Manager co-ordinating large events, conferences and weddings.
Seeking a new challenge, she joined the Netball South team in 2008 following the launch of the ANZ Championship to manage events for the Steel franchise.
Her extensive knowledge proved an asset for ILT firm Elmwood when Invercargill hosted one of the biggest global sporting events in the Rugby World Cup 2011 where she was recruited to manage the VIP Corporate Lounge. Other assignments include the Fast5 World Netball Series.
Sonya's organisational skills also come in handy on the home front where she is married to Craig and mum to three handsome boys - James, William and Callum. Socialising with family and friends and a penchant for scrapbooking occupy her spare time.
Carla O'Meara - Marketing and Events co-ordinator
Carla's ticketing nous has proved an asset since she joined the Netball South team in 2012.
Graduating from the University of Otago with a Bachelor of Commerce (double major in Marketing and Management), Carla has worked the events industry for over a decade and brings an array of skills to her role.
As well as managing our ticketing and membership requirements, Carla assists with the co-ordination of various events and marketing initiatives.
Married to Michael, the couple have two adorable young sons, Riley and Cole.
Jo Ward - Community Netball Manager
Jan Proctor - Office Manager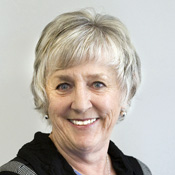 With a "double degree with honours from the University of Life", Jan joined our netball family in 2009 as office manager. Tasked with overseeing the accounts and various administration duties, we think Jan's the most important in the organisation ... because she pays the wages!
Jan's extensive knowledge of finances stems from a background in banking with BNZ in Dunedin, followed by a stint in the Invercargill branch. Putting her career on hold to raise two daughters, she returned to the workforce managing the accounts for the family business before venturing into the media industry as office manager for Radio Central in Alexandra before transferring south to Foveaux Radio/More FM for several years, followed by a year at The Radio Network.
An animal lover, horses in particular have featured strongly in Jan's interests with an extensive involvement with three-day eventing and Pony Club. She also enjoys drinking wine and holidaying overseas in tropical climes.
Colleen Bond - Match Officials Development Officer (MNZM)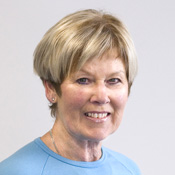 Summing up the contribution Colleen has made to netball in both the Netball South Zone and New Zealand is certainly a challenging task. It's an involvement which now spans over five decades.

The passion and dedication of our Match Officials Development Officer not only fosters success but enables the continued evolution of our sport. Her love of the game is infectious and her willingness to share it inspiring.

Colleen is valued for her tireless contribution and highly respected for her incredible knowledge of the game's technicalities. Only the very brave would question Colleen's interpretation of the rules.

The word 'no' simply doesn't exist in Colleen's vocabulary. Whether it's mentoring umpires officiating on the world stage or teaching basic passing skills to a junior academy, she truly goes above and beyond the call of duty in everything she commits to.

Her role at Netball South provides a platform for her to share her passion for netball with schools, clubs and centres.

While umpiring is Colleen's forte, coaching remains a passion and she has been at the helm of a vast array of teams from school level to the Southland senior A team.

Despite being the equivalent of a walking IFNA rule book, Colleen thrives on adding to her skill base and opts to attend coaching workshops to ensure her coaching techniques are relevant and innovative.

Players she coaches relish the opportunity to tap into her netball wisdom and embrace the team culture created by this stalwart of the game.

High expectations are a hallmark of Colleen's style. She unashamedly demands high standards of those she mentors – a stance which ultimately enables netball to maintain the professionalism it is renowned for.

As an elite umpire herself, she chalked up an unrivalled 29 consecutive New Zealand Championships. The highlight of her extensive umpiring career came in 2003 when she was selected to officiate at the Netball World Championships in Jamaica. Not only did the Silver Ferns reign supreme, but Colleen enjoyed one of her last assignments on the international stage.

After achieving many of her own personal goals through her umpiring adventures, Colleen retired her whistle and has since joined numerous panels to assist budding umpires meet their aspirations.

The rural community of Eastern Southland has a remarkable four international umpires to its credit – and each will pay testament to the fact that without Colleen's input into their progress and her unwavering support, they would not have achieved the qualification.

Colleen's humble nature does not lend itself to seeking accolades but she was deservedly made a Member of the New Zealand Order of Merit in 2015 in recognition for her services to netball.
Jess Huia - Coach Development Officer
Sophie Johns – Netball Development Officer (Dunedin)
Alex Morrison-Bailey – Netball Development Officer (Southland)